Prerequisite Eligibility Checklist, Information, and Links
Requirements for ALL Student-Athletes
Jenks Public Schools and the OSSAA have a list of prerequisite eligibility requirements for students involved in sanctioned athletic programs. Athletes obtain eligibility to practice and compete on behalf of the school by providing our department with this information upon making a team. All items outlined below must be fulfilled annually after May 1st of every year.
We strongly advise parents to take advantage of the mass physical event (Early May) and the mass drug testing event (Early August) that we host every year to help you knock out the two hardest requirements before school starts. If you prefer having physicals done with your primary care physician, please shift those appointments to the summer if possible. Drug testing must be done at our contracted lab.
Note: If you are transferring into the Jenks Public Schools district, you will NOT be able to fill out your online forms until the student-athlete is viewable by staff in PowerSchool. Most transfers will be unable to access our RankOne system until July at the earliest. Please reach out if you need earlier access and have a Jenks student ID number for the 2023-2024 school year so we can assist you directly.
PreReq Checklist, Information, & Links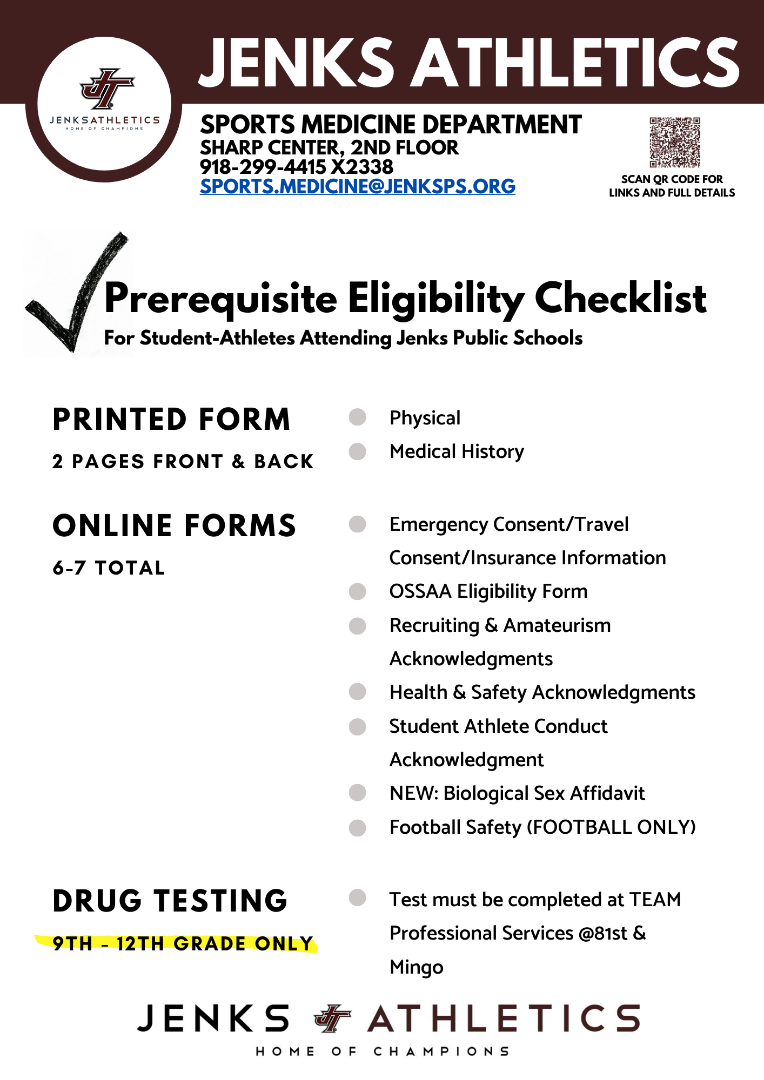 Hard Copy Form (Physical and Medical History)
Mandatory Online Forms (CURRENTLY SET TO 2023-2024 SCHOOL YEAR)
Emergency Consent/Travel Consent/Insurance Information

OSSAA Eligibility Form

Recruiting & Amateurism Acknowledgments

Health & Safety Acknowledgments

Student Athlete Conduct Acknowledgment

Biological Sex Affidavit

Football Safety (FOOTBALL ONLY)
Click link to register and fill out online documents: 2023-2024 RankOne Forms
PARENTS: if you complete all online forms and other requirements and your child is still showing as ineligible in RankOne, please contact the athletic department (x2214 or Trojan.Athletics@jenksps.org).
Drug Testing (9th through 12th Grades ONLY):
Please read ALL instructions before paying for and completing a drug test. The Jenks Athletic Department will not be held responsible for any errors regarding payment if instructions are not followed.
Cost: $35.00 via GoFan; must present mobile ticket and photo ID
Drug Test Appointment Ticket (9th - 12th Grade Student-Athletes ONLY)
NOTE: The ticket will have a summer date on it, which you can disregard. This ticket will work during all of TEAM Professional Services business hours so that you can go to the lab at your convenience.
Please purchase a Drug Test Appointment Ticket $35.00 at the GoFan link listed above.

If you are under 18 and attending your individual drug test WITHOUT a parent or guardian present, please fill out and complete this form: Parent/Guardian Consent Form for Drug Testing

Then take your mobile ticket and student photo ID to TEAM Professional Services AFTER JULY 1ST, 2023:
TEAM Professional Services: 8165 S. Mingo Rd., Suite 100 Tulsa, OK 74133-4667
Hours: Monday-Friday 8:00 AM-4:30 PM; although doors are open until 5:00 PM, the lab will not check anyone in for testing after 4:30 PM.
At the front desk, you will need to have the ticket open on your phone and your photo ID in hand. A TEAM staff member will then validate your ticket by touching a link on your phone. DO NOT validate the ticket yourself or it will have to be reset by a member of the athletic department.
Please note: the Jenks Athletic Department will not accept results from other labs.